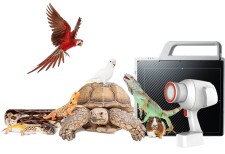 News
•
updated: Nov 8, 2016
"The image quality from this new system is truly remarkable, and we are very excited to offer this incredible diagnostic capability," said James W. Kramer, DVM, CVPM, owner of the Columbus Small Animal Hospital.
The new EZ Ray Air Portable X-Ray system and a Wireless DR Detector is ideal for Feline, Exotic and Avian practices. The battery powered hand held x-ray is designed to support freedom of movement. It is also designed to protect the user from radiation exposure. It includes the internal x-ray shield housing and the external backscatter shield. The battery operated system requires less space but delivers more portability in any work environment.
The Wireless X-ray Detector has a built-in Access Point(AP) which enables images to be sent to the wireless computers and delivers immediate diagnosis throughout the network.
Hand held and wireless system delivers more mobility indoor and even outdoor environment
Rechargeable battery
Lightweight and ergonomic design
Optional VetView imaging acquisition software available
For more information on MyVet Imaging Veterinary Imaging solutions contact them at Info@MyVetImaging.com or 888.854.5848
Share: